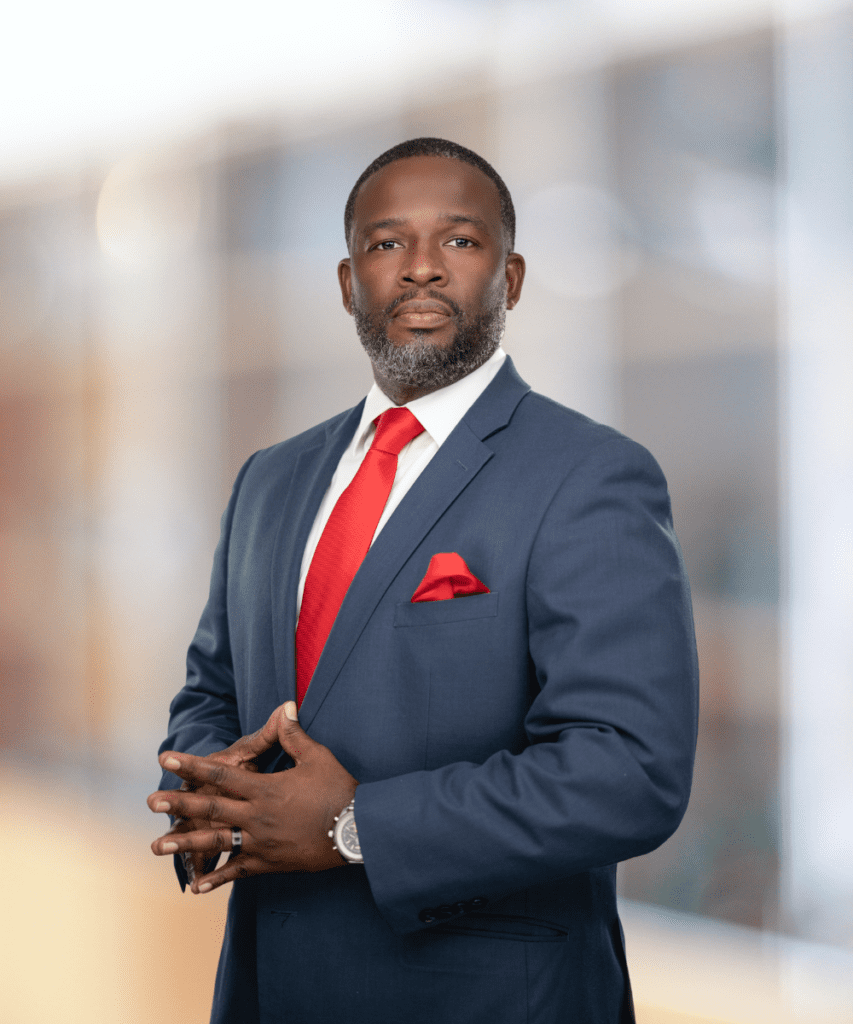 States:
​Florida

​District of Columbia
​​Federal:
​U.S. District Court for the Southern District of Florida​

U.S. District Court for the Middle District of Florida​

U.S. District Court for the Northern District of Florida
The Florida Bar, 15th Judicial Circuit Grievance Committee "C", Board Member (2017-2020)

National Bar Association, Young Lawyers Division, Executive Board Member (2010 – 2015)

The Virgil Hawkins Florida Chapter National Bar Association, Member

T.J. Reddick Bar Association, Board of Directors

Broward County Bar Association, Member

American Bar Association, Member
Boys & Girls Club Nan Knox, Board of Directors​ (2012-2019)

Omega Psi Phi Fraternity, Inc., Zeta Chi Chapter, Executive Board Member​

Broward County Minority Builders Coalition, Executive Board Member (2012-2018)

​Team Saving Our Youth, Executive Board Member (2012-2018)

Community-Based Connections, Executive Board Member (2012-2018)

State of Florida Omega Friendship Foundation, Inc., Executive Board Member

Annual Know Your Rights Seminars
Attorney Michael T. Bostick is a graduate of the University of Central Florida where he earned bachelor's degrees in psychology and legal studies. Following his collegiate career, Mr. Bostick went on to earn his Juris Doctorate degree from West Virginia University College of Law.
Admitted to the Florida Bar in 2007, Mr. Bostick began his legal career as a trial lawyer, honing his craft before juries in Miami-Dade County. As an Assistant Public Defender with the Miami-Dade Public Defenders Office, Mr. Bostick aggressively represented indigent clients who were criminally accused by the government. After nearly three years of criminal jury trials and accumulating a greater than 95% win rate as a trial attorney, Mr. Bostick left his position as an Assistant Public Defender to begin working in the corporate arena practicing civil litigation.
As a Broward County, Florida based civil litigator, Mr. Bostick has worked on behalf of the "little guy" in personal injury matters and on behalf of nationally and internationally recognized financial institutions and corporations in the areas of creditors' rights, commercial litigation, real estate transactions, foreclosure prosecutions, and contract negotiations and drafting. Mr. Bostick's legal practice has afforded him the experience to practice law all over the state of Florida in each of its 67 counties. Furthermore, Mr. Bostick is licensed to practice in Florida's federal district courts (Southern, Middle, and Northern District Courts) and is licensed to practice law in the District of Columbia, our nation's capital.
In addition to Mr. Bostick's criminal defense and corporate, civil litigation experience, Mr. Bostick spent several years as an Assistant City Attorney with the City of Fort Lauderdale, defending the city in an array of legal matters (e.g., slip and falls, trip and falls, car accidents, battery, wrongful death, property damage, Federal Section 1983 actions (excessive force, false imprisonment, malicious prosecution, etc.)), prosecuting claims on behalf of the city (e.g., breach of contract, property damage, removal of firearms and ammunition under Florida's "risk protection" laws, forfeiture actions, etc.), serving as a legal advisor to the Fort Lauderdale Citizens' Police Review Board, and serving as a legal advisor to the City Clerk related to public records requests.
Lastly, Mr. Bostick is a passionate community advocate. He devotes a significant portion of his time volunteering in the community, primarily to assist disadvantaged youth. In striving to affect positive change to create a better tomorrow, Mr. Bostick devotes several weekends throughout the year performing legal seminars geared toward youth development and one-on-one mentorship. Additionally, Mr. Bostick performs legal seminars in churches, fraternal organizations, clubs, schools, and community centers devoted to the awareness of estate planning, proper management of financial assets, and knowledge of legal rights.
Remember, if you need legal services and desire results with integrity, give Mr. Bostick a call today to schedule your case review or contact us online to tell us more about your legal situation.